CARTRIDGE
GT12,GT15,GT17,GT20,GT35,GT37,GT40,GT42,GT45,GT47 etc
HX25,HX30,HX35,HY35,HX40,HX50,HX55,HX60W,HE551,HT60,HX80,HX80M,HX82 etc
S100,S200,S300,S400 etc
KP35,K03,K04, K16,K27,K28,K29,K31, K36 etc
CT9,CT12,CT20,CT26 etc
TF035,TD04,TD05,TD06,TD07,TD08 etc
RHB3,RHF4,RHF5,RHB5,RHB6,RHB7,RHC6,RHG6,RHC7,RHE7, RHE8,RHC9,etc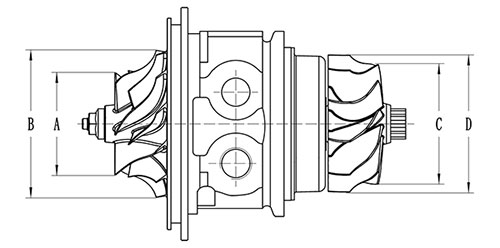 We can provide all the turbo spare parts of our produced turbocharger. At present we can provide more than 600 models of Cartridge product, meantime and we can develop the goods according to customers samples,the delivery time is 20-30days when we received samples.
Guarantee:
● Compressor wheel material : casting compressor wheel material is C355 that is made of aluminum alloy , uses the low pressure casting process ; Milling compressor wheel will be done according to the customer's choice, with 7075 or 2618 materials.
● Turbine wheel material: K418 Nickel -based superalloy. This alloy under 900 ℃ has good comprehensive performance , good casting performance and stability
● 100% after TURBO TECHNICS Mk 3 p - 06 and TZQ - 16 turbocharger overall dynamic balancing machine testing, to achieve the minimum fraction defective.
● Competitive price and high quality products
● Quick delivery and professional service